Individual, Family & Child Counselling Services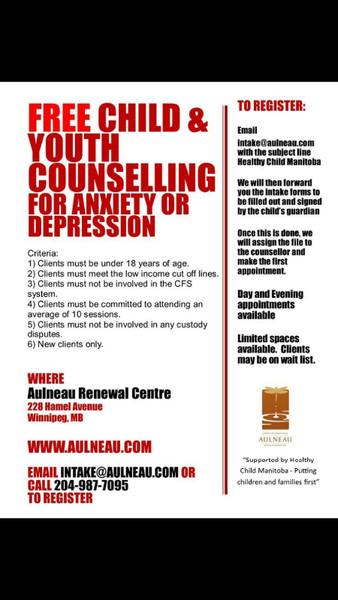 The Aulneau Renewal Centre is a registered bilingual not-for-profit organization in St. Boniface.
Our agency works with children, individuals & families to develop a therapeutic plan that meets their specific needs and circumstances through counselling, education, support, and guidance. The Aulneau Renewal Centre believes that renewal is a journey that engages the mind, heart, body and spirit.
Fees are determined on a sliding scale basis and can be as low as $5.00 per session.
Community supports and resource information is offered free of charge to all people in need of services within Winnipeg.
Please contact Aulneau at 204-987-7090 or feel free to reply to this ad for further information.
Aulneau Renewal Center also offers workshops and training sessions to individuals, families and professionals in the workplace. Please contact the agency regarding upcoming training or workshops.
Our agency is also online: http://aulneau.com/cms/
Published at Wed, 10 Jan 2018 18:00:54 -0500